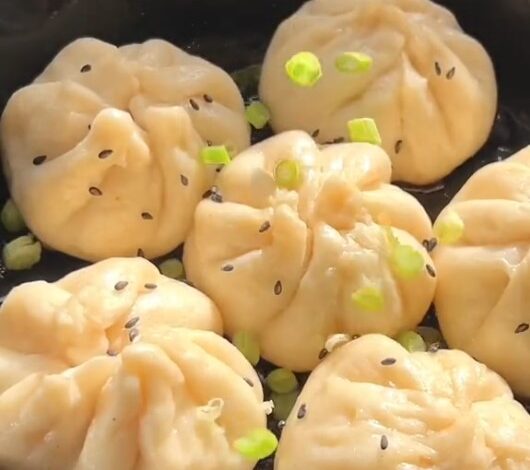 Crispy Pork Buns are juicy pan-fried delights, frequently served in Chinese restaurants. While they differ slightly from Chinese dumplings, the preparation process bears many similarities. Making them might be a bit more intricate, but fear not, with practice, perfection is attainable, and the incredible taste is well worth the effort.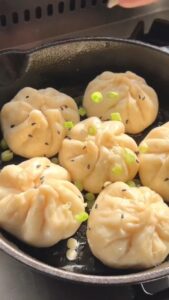 Ingredients:
Dough
250 g plain flour
1 tsp sugar
1 tsp yeast
1 tsp salt
1 tbsp vegetable oil
140 ml warm water
Filling
250 g pork mince (mince with high-fat content)
4 scallion/spring onion stalks, thinly sliced
1 tbsp grated ginger
3 garlic cloves, grated
1/4 cup water
2 tbsp soy sauce
2 tsp Shaoxing rice wine
2 tsp sesame oil
1 tsp salt
1 tsp sugar
1 tsp white pepper
Garnish
Scallion/spring onion, sliced
Toasted sesame seeds
Instructions:
Dough:
In a bowl, combine warm water, sugar, and yeast. Mix well and cover with a plate. Let it sit for 5 minutes or until the mixture becomes foamy on top.
Add flour, salt, and vegetable oil to the yeast mixture. Mix well until all the water is absorbed.
Transfer the dough onto a clean surface and knead for 5-10 minutes until it becomes smooth.
Place the dough ball back into the bowl and cover it with a tea towel. Let it rest for 45 minutes to 1 hour.
Filling:
In a bowl, combine all the filling ingredients and mix well. Set the filling aside.
Assembling:
Divide the dough into 2 equal pieces. Keep one piece covered with a tea towel while working on the other.
Roll one piece into a log and divide it into 8-10 pieces, depending on your desired bao bun size.
Shape each piece into a ball and use a miniature rolling pin to roll it into a circle, approximately ¼ cm thick.
Place about 1 tbsp of filling in the center of each circle and create pleats around the edges to form a bao bun. (Refer to the video for visuals.)
Repeat the process for the remaining dough pieces.
Frying:
Heat a frying pan with enough oil to cover the base over medium heat.
Fry the bao buns until the bottoms become golden brown.
Reduce the heat slightly and pour about ¼ – ½ cup of water (enough to cover the base of the pan) into the pan. Immediately cover with a lid to avoid splattering.
Steam the bao buns for 8-10 minutes, then uncover and let the water evaporate.
Fry the bao buns for an extra 5 minutes to crisp up the bottoms again.
Garnish:
Garnish the bao buns with sesame seeds and sliced scallion/spring onion.
Enjoy these delicious and flavorful pork bao buns, perfect as a snack or a delightful addition to any meal!