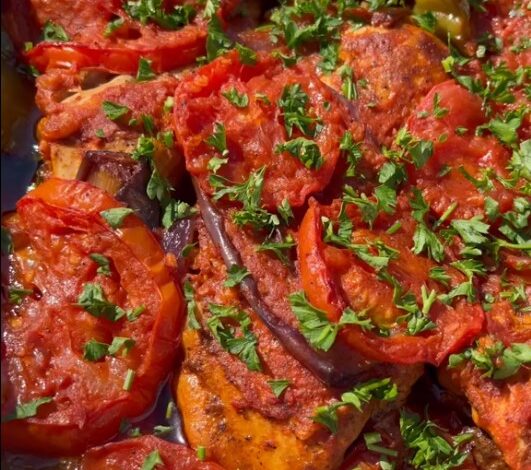 Tawa (Tepsi) is a delectable eggplant and veggie casserole, which I enhanced by adding chicken. However, you have the flexibility to include beef, veal, and lamb, or keep it vegetarian. This delightful dish pairs perfectly with rice or can be relished with naan.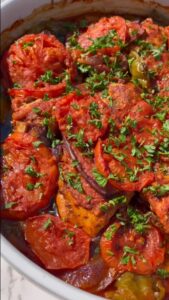 —Ingredients—
4 leg quarters, cut in half
1 teaspoon salt
1 teaspoon black pepper
1 teaspoon garlic powder
1 teaspoon paprika
1/4 teaspoon cayenne pepper Juice of half a lemon
2 large potatoes
2 long purple eggplants or 1 large eggplant
4 long hot peppers or 1 green bell pepper
1 large red or white onion
3 tomatoes
1.5 cups of oil for frying the vegetables
—Sauce—
5 cloves of garlic, minced
1 6oz can tomato paste
1 tablespoon chicken bouillon
1/2 teaspoon black pepper
1/2 teaspoon salt
2 cups water
—Garnish—
Parsley
Instructions:
Cut the leg quarters in half, place them in a bowl, and season with salt, black pepper, garlic powder, paprika, cayenne pepper, and lemon juice. Set them aside.
Peel, wash and cut the potatoes into rings. Wash and slice the eggplants into small pieces. Peel and chop the onions, and slice the peppers and tomatoes.
Heat the oil in a pan over high heat, and pan-fry all the vegetables (potatoes, eggplant, onion, and peppers).
In the same pan, sear the chicken for about 4 minutes per side, then remove it from the pan.
For the sauce, reduce the heat, add minced garlic and tomato paste, and cook for a couple of minutes. Stir in the chicken bouillon, salt, black pepper, and water.
Begin assembling the casserole by layering all the veggies and chicken, then pour the sauce over them. Cover with parchment paper or foil.
Preheat the oven to 400°F (200°C), place the casserole inside, and bake for 40 to 45 minutes. Enjoy with a side of rice or bread."
This flavorful Tawa (Tepsi) casserole with a perfect combination of chicken, vegetables, and aromatic spices is sure to become a favorite dish for any gathering or family dinner.