Food Recipe
Chicken rice bowl with a delicious chopped salad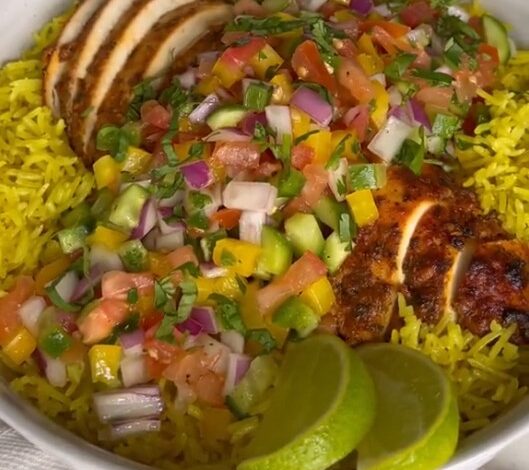 A chicken rice bowl with a delicious chopped salad is a flavorful and satisfying meal that combines tender chicken, fluffy rice, and a refreshing medley of chopped vegetables. Here's a recipe to create this delightful dish: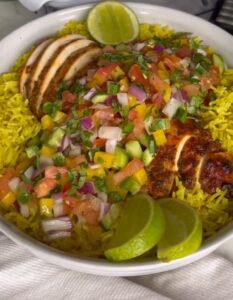 Ingredients for Chicken Rice Bowl:
For the Chicken:
1 pound boneless, skinless chicken breasts or thighs
2 tablespoons olive oil
2 cloves garlic, minced
1 teaspoon ground cumin
1 teaspoon paprika
1/2 teaspoon ground coriander
Salt and pepper to taste
For the Rice:
1 cup long-grain white rice
2 cups chicken broth or water
For the Chopped Salad:
1 cup cherry tomatoes, halved
1 cucumber, diced
1 bell pepper (any color), diced
1/4 red onion, finely chopped
1/4 cup chopped fresh parsley or cilantro
Juice of 1 lemon
2 tablespoons extra-virgin olive oil
Salt and pepper to taste
Optional Toppings:
Hummus
Feta cheese
Olives
Sliced avocado
Hot sauce or your favorite dressing
Instructions:
Cook the Chicken:

Mix olive oil, minced garlic, ground cumin, paprika, coriander, salt, and pepper in a bowl.
Add the chicken to the bowl and toss it in the marinade, ensuring it's evenly coated.
Cover the bowl and marinate the chicken in the refrigerator for at least 30 minutes (or longer for more flavor).
Heat a skillet or grill over medium-high heat and cook the marinated chicken until it's cooked through and slightly charred outside. This usually takes about 6-8 minutes per side, depending on the thickness of the chicken. Once cooked, set the chicken aside to rest for a few minutes before slicing.

Prepare the Rice:

Rinse the rice in a fine-mesh strainer under cold water until the water runs clear.
In a saucepan, bring the chicken broth or water to a boil.
Add the rinsed rice to the boiling liquid, stir, and reduce the heat to low.
Cover the saucepan with a lid and let the rice simmer for about 15-20 minutes or until the liquid is absorbed and the rice is cooked. Fluff the rice with a fork.

Make the Chopped Salad:

In a large mixing bowl, combine the halved cherry tomatoes, diced cucumber, diced bell pepper, finely chopped red onion, and chopped fresh parsley or cilantro.
Drizzle the lemon juice and extra-virgin olive oil over the salad ingredients.
Season with salt and pepper to taste, and toss everything together until well combined.

Assemble the Chicken Rice Bowls:

Divide the cooked rice among serving bowls or plates.
Top the rice with sliced chicken and a generous helping of chopped salad.
Add any optional toppings, such as hummus, feta cheese, olives, sliced avocado, or hot sauce.

Serve:

Serve the chicken rice bowls immediately while the chicken and rice are still warm, and the salad is fresh and crisp.
Enjoy your delicious and wholesome chicken rice bowl with a refreshing chopped salad, perfect for a nourishing lunch or dinner! Feel free to customize the toppings and add any other ingredients you love to make it your unique creation.