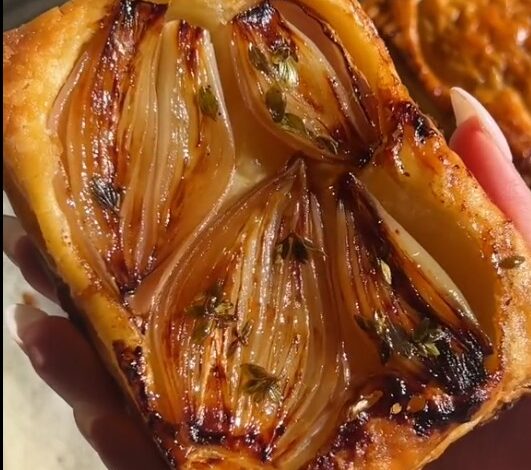 Shallot Tart is a breeze to prepare, taking just 10 minutes of prep work, and chances are, you already have all the ingredients readily available. The best part is, you can easily add your own creative touch, as these tarts are incredibly versatile and make excellent appetizers for any gathering. They even double up as a fun activity for your guests, keeping them engaged and entertained while savoring these delectable treats.

Ingredients:
4 tbsp Olive oil (Garlic-infused olive oil for extra flavor)
2 tbsp Balsamic glaze
2-4 sprigs of Thyme
6-8 shallots, peeled & halved
1-2 puff pastry sheets
Crumbled Feta cheese
Salt and pepper to taste
Instructions:
Preheat your oven to 200°C (400°F) and line your baking sheets with parchment paper.
For each tart, drizzle approximately 1 tbsp of olive oil onto the parchment, followed by a drizzle of balsamic glaze. Add thyme leaves, salt, and pepper for seasoning.
Decoratively arrange the shallot halves on top of the mixture, creating an attractive pattern.
Place a rectangular piece of puff pastry over the shallots, ensuring it is large enough to cover them entirely.
Brush the puff pastry with egg wash for a golden finish.
Bake the tarts in the preheated oven for 25-30 minutes or until they turn a beautiful golden brown.
Once baked, allow the tarts to cool slightly. Carefully flip the tarts using a bench scraper for a stunning presentation.
Sprinkle crumbled feta cheese over the tarts as a delectable finishing touch.
Serve and relish these scrumptious Balsamic Glazed Shallot Tarts with Feta.
These delightful tarts showcase the harmonious flavors of balsamic-glazed shallots and creamy feta, making them a savory and visually appealing treat for any occasion. Enjoy!